Did you know that you can have access to more options (mostly for personalizing my site)
just by clicking on the background image of my site? Also, if you would like to listen to some music while visiting my site, the MusicBox section is waiting for you with arms wide open!
-##selamla()##-, and welcome to Ali's homepage!
With globally majority point of view on COVID pandemic now switching it to be an endemic, and linked to the lifting of complex international travel restrictions, I took the refreshed opportunity to continue discovering (As I also explain in the
Who am I?
section, it is for me precious to know about different regions, people, cultures and cuisine) and realize the long dreamed of trip to South Korea and Japan.
First stop, Seoul, the capital of South Korea: This city, which has a history of approximately 6'000 years, gained importance as it became the capital for the first time in the 11
th
century. Below you will find photos from both Seoul and Busan, which we later passed through. The impressive palaces and temples that appear in the photographs are not actually the originals: be it for Gyeongbokgung, Changdeokgung and the others, many sadly got destroyed during wars, change of rulers or fires and were rebuilt. Of course, the architectural precision in all these monuments is extremely impressive! At the end of the Seoul photographs, you will find photographs of the memories of the war created between North and South Korea by foreign powers, which unfortunately caused the people who lived together for thousands of years to be condemned to be living apart from each other even today.




As the cruises over the ocean resumed in November 2022, we got the chance to enjoy a ferry ride from South Korea's southernmost Busan (which is known to have been the capital for a while) to Japan's southern town of Fukuoka. And, as we arrived in Fukuoka, we were greeted with cherry trees that bloomed beautifully - I know, it is a few weeks early, proving to be an easily noticeable impact of global warming! As we crawled through Japan, all the beautiful tress and flowers, whether in their natural state or carefully maintained gardens, have been calming and energising at the same time...





Of course, Japan is impressive with both its traditional and modern architectural styles. I've included a few photos below, the first from the entrance to the very often photographed Miyajima island (click on it to see other temples we visited on the mountain trek in Miyajima), the other from Kyoto, which impresses with its 1'200-year-old history, followed by the next two from Tokyo, which combines tradition and modernity. The last part would be what touched me the most: the atomic bomb in Hiroshima and the peace park. As a decision of the US administration at that time, about 146'000 people were killed in an instant by the atomic bomb dropped on Hiroshima, the rest were condemned to live with their destroyed families (children without families, families who lost their children, etc.) or with illnesses that manifested decades later. This comes together with the fact that Korea, which I mentioned at the very beginning, is unfortunately separated; and I hope everyone will try harder for peace and unity to prevail.




Of course, a highlight of this trip is the food! Even though we haven't eaten the same thing twice during these three weeks (and of course, we've been eating every day), we still haven't finished that rich cuisine after three weeks! I made a "food mosaic" below, a mix of everything, from desserts to teas, from fish to soups, each more delicious than the other. You can also download the larger version of the mosaic by clicking on it: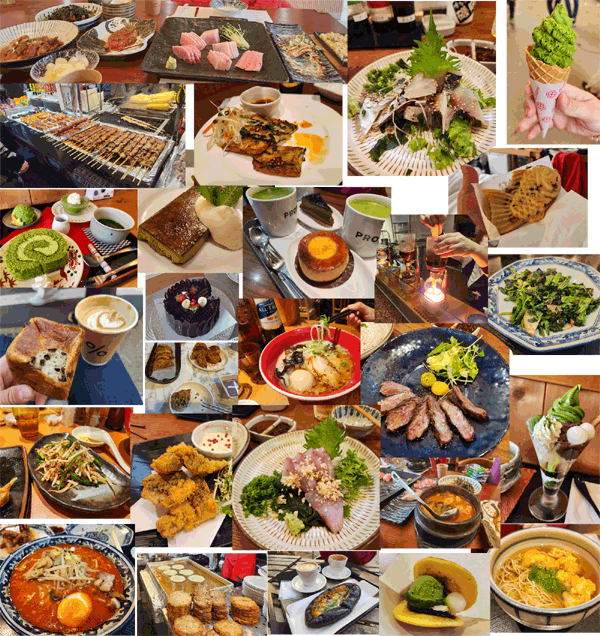 With these updates and good wishes shared, I'll let you enjoy your visit of my site. As usual, while doing so please make good use of the Facebook "like" button in the bottom and don't hesitate to contact me for all your comments, recommendations, ideas, wishes (eg. for the MusicBox), and so on, and so forth... Or even, to simply say "hello"!! (look -> the "Contact me" section, i.e. the one with a typewriter icon)